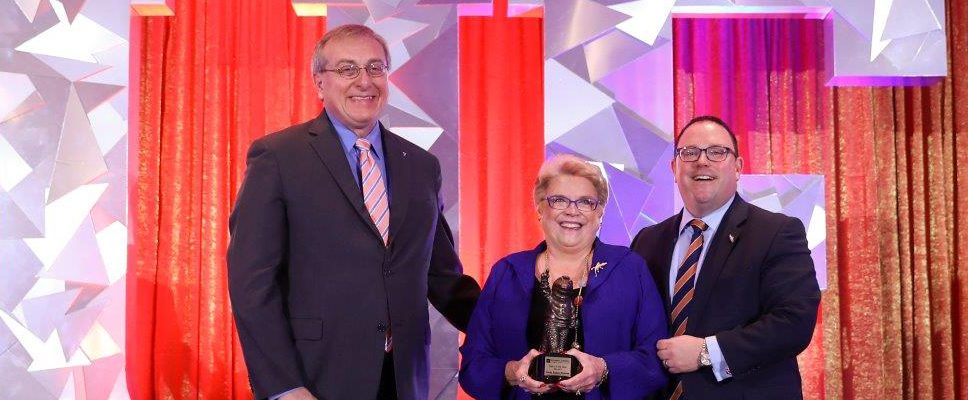 UF Grad Linda P. Hudson Named One of '50 Most Powerful Women in Business'
August 11, 2017
Posted by: UF News
North Carolina businesswoman Linda Parker Hudson, founder and CEO of the leadership, communications and business consulting firm The Cardea Group, has been selected the University of Florida's Gator of the Year for 2017 in recognition of her extraordinary career and longtime service to her alma mater.
Hudson is the seventh person to receive what has become one of the university's most prestigious awards. It honors Gators whose contributions — investment, advocacy or expertise — to the university are exceptional. Past honorees are Jeremy Foley (2011), John James (2012), Danny Ponce (2013), James Pugh (2014), Joelen Merkel (2015) and Anita Zucker (2016).
"University of Florida alumni have a long tradition of being trailblazers, civic and business leaders, and doers committed to the people the university serves. No one embodies that Gator spirit more than Linda. Even as she's risen in her career, UF has remained close to her heart and a personal priority," Vice President for Advancement Tom Mitchell said.
Prior to starting The Cardea Group in 2014, Hudson retired as president and CEO of the global defense, aerospace and security company BAE Systems Inc. Named four times as one of Fortune Magazine's 50 Most Powerful Women in Business and to numerous other "most powerful" lists, she is known as the "first lady of defense." She was one of only two pioneering women to graduate with a UF degree in systems engineering in 1972, and went on to become the first female CEO in the defense industry and first woman to lead a major national security company. Before joining BAE Systems, Hudson held leadership positions with General Dynamics, Martin Marietta and Ford Aerospace. She currently serves on the boards of Bank of America, Southern Company and Ingersoll Rand.
Hudson's service to UF is equally impressive. A Florida native, she works with numerous university boards and committees, including the University of Florida Foundation's Executive Board of Directors, Engineering Leadership Institute and Industrial Engineering Advisory Board. She is a distinguished alumna and a member of the university's Industrial and Systems Engineering Hall of Fame. Hudson is also a generous philanthropist. Along with being a Bull Gator and supporting a number of community organizations, she established a scholarship and fellowship in UF's College of Engineering and created an engineering leader-in-residence program at the university.